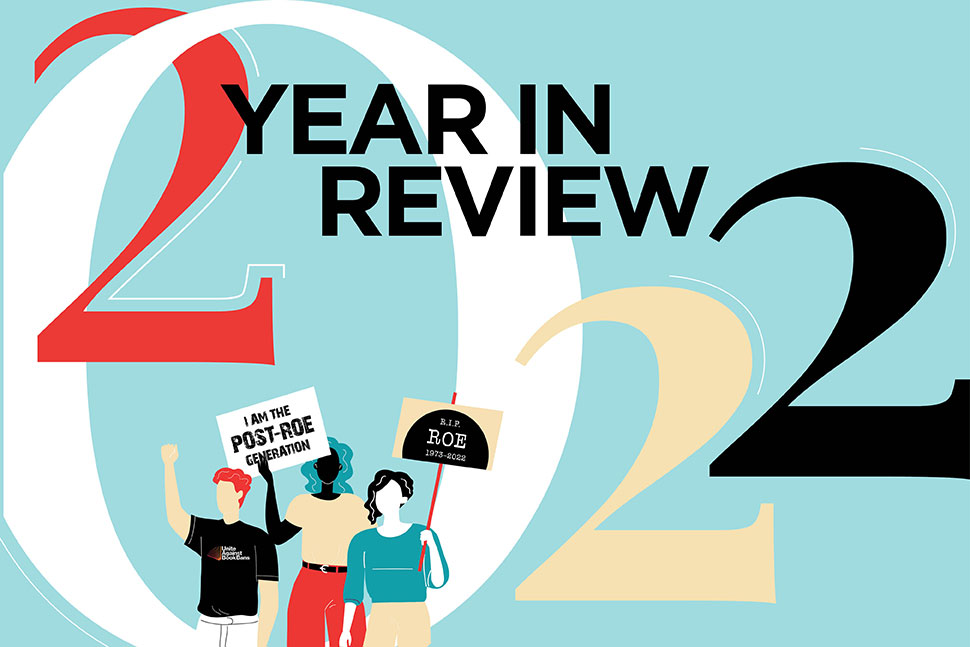 Uniting against censorship attempts
Organized book challenges continued to proliferate. From January through August, 681 attempts to ban or restrict library materials had been made in the US, with 1,651 unique titles targeted. In response to mounting censorship threats, ALA announced in May its Unite Against Book Bans campaign, a coalition with more than 60 national partners as well as state and local groups that have banded together to protect the right to read. The campaign released an action toolkit, which includes ways to petition and seek pledges from elected officials and candidates.
Roe v. Wade overturned
On June 24, the US Supreme Court ruled 6–3 in Dobbs v. Jackson Women's Health Organization that the right to an abortion was not protected under the US Constitution. The decision allows individual states to ban abortions, overturning almost 50 years of precedent set by Roe v. Wade. The ruling came during ALA's Annual Conference in Washington, D.C., leading many attendees to protest outside the Supreme Court building. On August 9, ALA's Executive Board issued a statement opposing proposed state legislation that would censor library materials or put at risk library workers who provide access to information, including about reproductive health care.
Violent threats aimed at libraries, library workers
Five public library systems—in Denver; Fort Worth, Texas; Hawaii; Nashville, Tennessee; and Salt Lake City—were forced to close temporarily in September because of shooting and bombing threats. The threats came amid a wave of book challenges and objections to programming. The ALA Executive Board shared its concerns for the safety of library workers and patrons in a letter to the FBI.
Happy 100th birthday, Newbery
The Newbery Medal—the world's first children's book award—celebrated its centennial anniversary. To commemorate its legacy, American Libraries published features and interviews with past winners. The 2022 Newbery Medal winner was The Last Cuentista by Donna Barba Higuera.
Coretta Scott King Book Awards Round Table launches
On January 21, the Coretta Scott King Book Awards became an official ALA round table, continuing the award's mission of honoring ­African American authors and illustrators of books for children and young adults that ­demonstrate an appreciation of ­African American culture.
Together again
Marking a new normal following the start of the pandemic, the library world reunited in 2022 at two of ALA's annual meetings. LibLearnX—ALA's reimagining of its Midwinter Meeting & Exhibits—made its virtual debut in January, and the ALA Annual Conference returned in person in Washington, D.C., in June.
Publisher consolidation challenged
The US Department of Justice successfully sued to stop the merger of Penguin Random House and Simon & Schuster, which would have consolidated two of the Big Five publishers into the largest in the nation. The buyout bid officially ended in November.
A blow for greater digital access
A federal court in June ruled that a Maryland law requiring book publishers to offer "reasonable" ebook licenses to public libraries is unconstitutional, dealing a blow to librarians and lawmakers who support greater access to electronic materials. Similar laws are currently being considered in Rhode Island, Tennessee, and other states.
Expanding library services for incarcerated individuals
The Andrew W. Mellon Foundation awarded San Francisco Public Library (SFPL) a $2 million grant to expand services for people incarcerated locally and nationally. The grant will support a collaboration between SFPL and ALA.
Natural disasters affect libraries and their communities
A spate of natural disasters took a toll on libraries and their communities. In July, flooding in eastern Kentucky shuttered ­several library systems, with school libraries in Letcher County reporting a loss of more than 25,000 books. In August, river flooding and infrastructure failure left Jackson, Mississippi, residents without access to safe drinking water, and many libraries were forced to close their buildings. Hurricane Ian made landfall in late ­September, causing water damage and material losses at many Florida libraries.
Libraries receive COVID-19 relief grants and assist in vaccination efforts
The ALA COVID Library Relief Fund distributed nearly $1.6 million in grants to 77 academic, public, school, tribal, and correctional libraries that continue to experience pandemic-related economic hardship. Each library received $20,000 in grant support. The Association also partnered with the US Department of Health and Human Services on We Can Do This, a public education campaign to share information about COVID-19 vaccines with families with young children.
ALA establishes Ukraine Library Relief Fund
In response to Russia's invasion of Ukraine in February, ALA launched its Ukraine Library Relief Fund. Since its establishment in May, the fund has raised more than $17,000 from 200 donors to help Ukrainian librarians continue to provide programs and services during the war.
Tribal libraries become eligible for E-Rate
On January 28, the Federal Communications Commission (FCC) released a report and order that updated the definition of library in its E-Rate rules and clarified that tribal libraries are eligible for the program. Five months later, the FCC announced an agreement with the Institute of Museum and Library Services to jointly promote affordable broadband internet access.
Small and rural libraries receive $7 million in accessibility grants
In March, ALA announced it will distribute more than $7 million in grants to small and rural libraries to increase accessibility to services, programs, and facilities for people with disabilities through the Libraries Transforming Communities: Accessible Small and Rural Communities program. The grants will be distributed over three years. Recipient libraries will gather input from affected populations to improve existing services or create new ones.
Source of Article