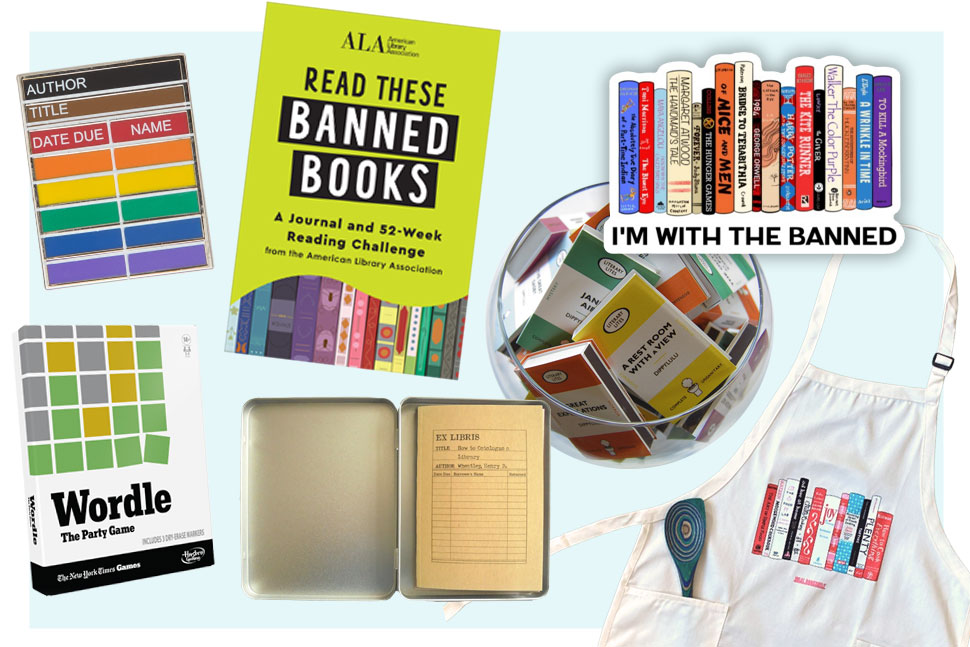 After a year of unprecedented challenges and impressive successes, it's time to celebrate the resilience of librarians. This holiday season, focus on gifts that highlight goodwill, inclusivity, and the joy of books. We've rounded up a list of presents that are fun, thoughtful, and affordable—most items are less than $40. And while you're shopping, don't forget to treat yourself, because everyone deserves a little extra kindness these days.
Gifts Under $10
"Read Banned Books" Bookmark ($4)
Let LeVar Burton save your place with this colorful, two-by-seven-inch, matte-coated card stock bookmark by HereNowWow. It features collage portrait imagery with text printed on the front, and shipping is free.
---
"I'm with the Banned" Sticker ($4.49)
Rock star librarians can use this sticker to let the world know that the First Amendment is still a number-one hit. This glossy, UV-resistant, waterproof vinyl sticker from Stella Jane Studio is great for water bottles, laptops, or anywhere a smile might be helpful. It's about four by 2.5 inches, and shipping is free. This design is also available as a T-shirt.
---
Gifts $10–$15
Library Card Pride Enamel Pin ($10)
Wear some librarian pride on your sleeve (or your lapel, or your book bag) with this cheerful, enameled brass pin by Out of Print. The one-inch-wide pin has a white nickel finish and a rainbow motif. Each purchase helps to fund literacy programs and book donations to communities in need.
---
Write It Out + Make It Happen Affirmation Pencil Set ($12)
Make every word an affirmation with this brightly hued set of 10 No. 2 graphite pencils by Be Rooted. Each USA-made pencil has a gold-tone ferrule, a pink eraser, and is etched with inspirational phrases like "I am strong," "I am fearless," etc.
---
Read These Banned Books Journal and 52-Week Reading Challenge from the American Library Association ($12.99)
Keep track of your resistance in the coming year with this 240-page softcover reading log from the American Library Association, in partnership with SourceBooks. The journal features profiles of different banned or challenged books each week and includes space for readers to record their own thoughts. An appendix lists the 100 most frequently banned and challenged books from recent years, plus specific, actionable tips on how you can fight for the freedom to read.
---
"Books Are My Love Language" Lined Journal ($13.99)
The world will know exactly what makes you happy when you carry this blank spiral notebook with "Books Are My Love Language" on the cover. The six-by-eight-inch, 59-sheet book from Bloomingly Bookish has a pocket in the back, perfect for receipts or business cards. Shipping is free.
---
Gifts $16–$30
Wordle: The Party Game ($19.99)
Wordle—the popular word game that seemed to make addicts of us all overnight—is now a card game from Hasbro, and just in time for the holidays. This analog version, for two to four players, includes a dry erase board and markers, and is suitable for ages 14 and up.
---
Stack of Books Succulent Plant Pot ($19.99)
Small succulents and tiny plants will love their new bookish home in one of these 3D-printed, four-inch-tall plastic plant holders from Corduroy Effect. They're available in 20 colors and are also suitable for holding pens, pencils, and extra face masks.
---
Storage Tin Filled with Library Notebooks ($24.28)
Bring a touch of whimsy to your note-taking with this set of four pocket-sized, 48-page ruled notebooks in their own matching storage tin. Each 4.1-by-5.8-inch notebook is designed by artist Su Mwamba/Whirling World and features a page index inside the front cover, plus a full-year calendar inside the back cover. Custom options are available.
---
Ideal Bookshelf Classic Cookbooks Apron ($28)
Your favorite bookish cook will recognize the titles shown on this apron. Based on a painting by artist Jane Mount, this 30-inch-long cotton twill apron from 20×200 has two pockets and an adjustable neck strap. The books' spines, including Joy of Cooking, Mastering the Art of French Cooking, and How to Cook Everything, are not just nice to look at—they're a great reading list.
---
Gifts $31 and Above
Winnie-the-Pooh Book Wallet ($36)
This clothbound hardcover 4.25-by-three-inch wallet from Novel Bookstore is designed to look just like a vintage 1926 book. The inside is made from vegan leather and features four card slots, a flap for cash and receipts, and a coin pocket. Other titles are also available.
---
The Complete Works of Literary Lites ($39)
Give guests something to giggle about when they take a bathroom break. This set of 18 book-themed matchboxes from Dippylulu features such titles as A Rest Room with a View and A Game on the Throne.
---
Indigenous Authors Monthly Book Subscription (price varies by subscription box)
Raven Reads is a 100% Indigenous-owned and women-run company that creates subscription boxes for people who want to explore Indigenous literature. Their monthly book subscription focuses on new releases and debut authors from Canada and the US. The company has invested more than $500,000 Canadian ($366,000 US) into Indigenous businesses and authors since its founding. Children's subscriptions and seasonal boxes are also available.
Source of Article