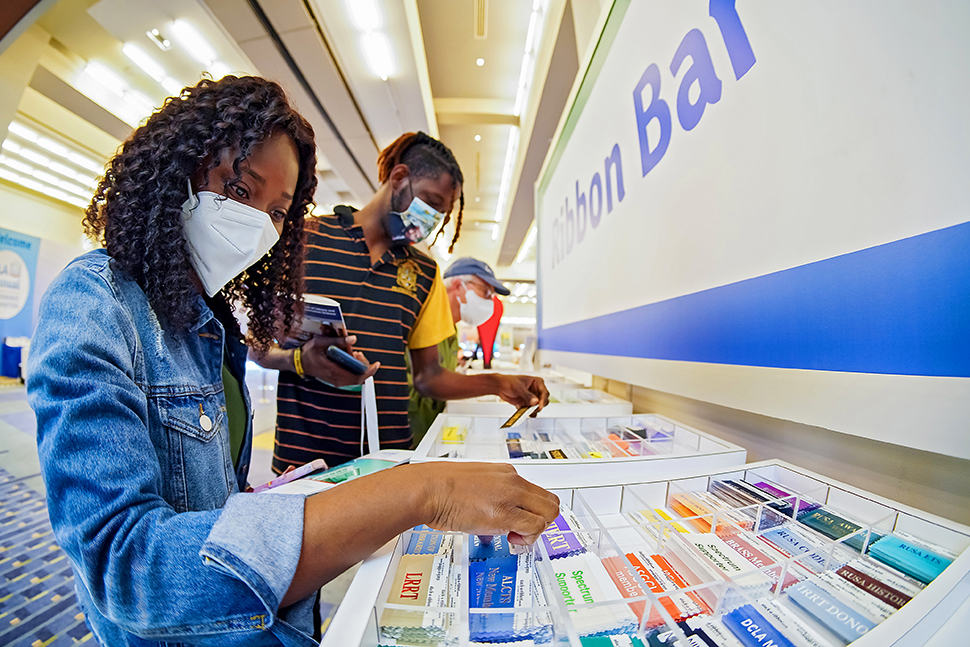 From June 23 to 28, the American Library Association (ALA) held its 2022 Annual Conference and Exhibition, its first major in-person conference since the pandemic began. Participants' eagerness to gather and reconnect was palpable and seen in the numbers: The conference drew 7,738 in-person attendees; 5,431 exhibitors, authors, illustrators, press representatives, and staff members; and 834 virtual attendees for the Digital Experience. A total of 14,003 people registered. Washington, D.C., served as a historic backdrop for the conference, as the Supreme Court struck down Roe v. Wade on June 24 and protests erupted nationwide.
Major themes that resonated throughout the conference included book bans and censorship; issues around diversity, equity, and inclusion; examples of successful library programming during the pandemic; library funding strategies; patron and library worker safety; information access; and technology trends and challenges. Conference speakers included actors John Cho and Tiffany Haddish, comic book artist Kevin Eastman, Librarian of Congress Carla Hayden, journalist Maria Hinojosa, and authors Celeste Ng and R. L. Stine. Speakers for the Digital Experience, the virtual version of the conference, included authors Jodi Picoult and Jennifer Finney Boylan and actor Channing Tatum.
Closing the digital divide
The conference kicked off Friday with a conversation between Opening General Session speaker Jessica Rosenworcel, chair of the Federal Communications Commission, and outgoing ALA President Patricia "Patty" M. Wong about the state of broadband and digital equity in the US. Rosenworcel said the E-Rate program, which provides internet access at a discount to schools and libraries, is "a quiet powerhouse." She added: "It has done more to connect libraries and schools in this country than any other single program, and I'm absolutely committed to making sure not just that it sticks around but that it thrives."
Underrepresented voices
Panelists at multiple sessions discussed the importance of shining a light on insider narratives. At the program "Engaging Historically Underrepresented Young Adult Readers," authors Susan Azim Boyer, Katryn Bury, Maya Prasad, and Vanessa L. Torres shared their experiences growing up with a lack of positive depictions of themselves in books.
Books written by outsider authors (those who have not lived the cultural experiences represented by their protagonists) run the risk of including harmful depictions of groups of people. "Outsiders tend to fall back on the stereotypes because they don't have that specific, authentic knowledge," Boyer said. The panel offered strategies for how librarians can engage marginalized readers.
Cho's talk also touched on representation. In his debut middle-grade novel, Troublemaker, the actor said he wanted to bring out the loving relationship between main characters Jordan and his dad. "Especially in cinema, I've found that a lot of Asian characters tend to have to escape their culture to find love. I'm keen on telling stories of connection and love, so this book was an excuse to do that," he said.
At the panel "Advancing the Asian American Story," authors, publishers, and literacy advocates said that while Asian American representation in children's books has improved, there's more work to be done.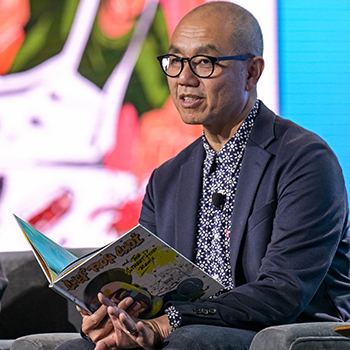 "I'm happy to see books that reflect the Asian American experience," said Philip Lee, cofounder and publisher of Readers to Eaters, which promotes food literacy through stories about diverse food cultures. "This is not a trend; this is a movement." What's next, he said, is for characters to have more nuance: "I want books that reflect kids much more than just racially."
At "Deaf Culture: A Strategy for Inclusive Deaf Community Engagement," panelists emphasized the need for materials and programming on Deaf history and culture in libraries. "Deaf culture includes customs, folklore, history, language, traditions, and values," said Alec McFarlane, organizational development specialist for the National Literary Society of the Deaf. To underscore this point, Laurent Holt—fourth great-grandson of Laurent Clerc, one of the most well-known figures in American Deaf history—was invited to say a few words about his ancestor.
"Our hope for the future is more Deaf librarians … and better relationships with the Deaf community," said KayCee Choi, manager of Dallas Public Library's Grauwyler Park branch. "Our library provides Wi-Fi hotspots and laptops to the community, so why not also provide Deaf services?"
Library workers' and patrons' well-being
At the session "Queering the Library: Strategically Creating Space for the LGBTQ+ Community," Prince George's County (Md.) Memorial Library System (PGCMLS) librarian Rebecca Oxley told attendees, "Please check on your queer colleagues. We are not okay."
Oxley and PGCMLS librarian Teresa Miller created an LGBTQ+ work team to increase resources and programming for the community—both patrons and staff—and to integrate changes into the library's culture.
At "Creating the Future Library Workforce," Catherine Murray-Rust, retired dean of libraries at Georgia Institute of Technology, talked about how library workers are frequently overstretched and undercompensated. She encouraged audience members to form a plan for change. "One of the most important parts of any library isn't the building or the collection—it's the people who work in it," she said.
The right to read
Censorship was on many attendees' and panelists' minds. Throughout the country, high-profile challenges and attempts to ban or destroy diverse materials, including in bookstores and libraries, have triggered heated arguments.
Conference speaker and author Celeste Ng (see p. 10) spoke about her forthcoming novel, Our Missing Hearts, in which book banning is widespread in a fictional and dystopian but eerily familiar world.
Speakers noted that banning books that feature diverse characters can be like cutting a lifeline—the only connection that some readers may have to books.
PGCMLS's Miller strongly advised pushing back against any counterarguments that LGBTQ+ content or discussion is inherently "adult" or "inappropriate," and to remind leadership that queer kids exist, kids with same-sex parents exist, "and those kids deserve to see themselves represented in the library."
During "Defending the Fifth Freedom: Protecting the Right to Read for Incarcerated Individuals," ALA Executive Director Tracie D. Hall reported that the US has the highest incarceration rate in the world, and that the most extensive book bans in the country right now are happening in the prison system.
"The Association's membership is called on at this moment to interrupt the systemic information poverty that is going on in American's detention facilities," Hall said.
Successful programming and strategies
During "The Value of Manga in School Libraries," Mount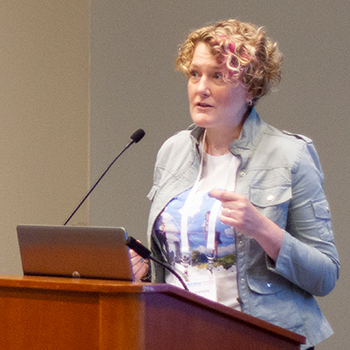 Vernon (N.C.) Middle School librarian Julie Stivers talked about her experience leading anime- and manga-centric clubs for middle and high school students. Incorporating this material into programming, rather than letting it sit on the shelf, is vital for students to have a comfortable space, she said. "Our libraries must be incubators of joy and belonging. How does a manga club do that?" Stivers asked. "My students have said, 'When there is a common interest, we just click together' and 'I feel safer here than anywhere else.'"
In "Inspiring the Next Generation to Champion Social Justice through Speech and Debate," instructors for San José (Calif.) Public Library (SJPL)'s Speech and Debate program for 3rd- to 5th-graders shared insights into their curriculum and success.
"People give speeches because they have something important to say," said Catherine Tong, an instructor for the program and the former high schooler (now a student at University of California, Berkeley) who initially pitched the idea to SJPL. "Speaking with purpose and for a cause they believe in helps [students] overcome fear."
Tina Chenoweth, interim manager of the Charleston County (S.C.) Public Library (CCPL) Bees Ferry West Ashley branch, shared how she launched her Animal Crossing virtual library program during the initial lockdown of 2020 in the session "Building Community Relationships through Collaborative Online Gaming: Animal Crossing's Enduring Success." She discussed what programming and activities she facilitated on the virtual island in Animal Crossing and what librarians should consider when conducting their own videogame program.
The virtual library "still functioned in the sense of a library," said Shannon Talian, session moderator and CCPL circulation manager. It had a garden, makerspaces, a bulletin board, and a book club that eventually moved to Discord, a social media platform where users can create their own communities and interact. In the virtual library, patrons could play book bingo, participate in fishing tournaments, exchange in-game items, and more.
In "Outside and Around Town: The Magic of Harry Potter and the Stratford Adventure," Brooke Windsor⁠, teen services librarian at Stratford (Ontario) Public Library⁠, stressed the power of fandom in bringing a community together. During the pandemic, she developed a game that invited players to visit Stratford's local businesses to complete challenges and win prizes. Harry Potter and the Stratford Adventure was a hit that more than 70 patrons participated in during its three-week run.
Binghamton (N.Y.) University Libraries (BUL) subject librarian Jennifer Embree talked about how she and her colleague, librarian Neyda Gilman, built BUL's Sustainability Hub, an initiative to create a physical space on campus and virtual resources for those looking to engage on the topic of sustainability.
"All of these groups of people would be doing this work, but they weren't talking to each other," Embree said during the session "Sustainability Hubs in Practice: How Libraries Can Develop Dynamic Spaces and Services to Help Foster an Action-Based Sustainability Culture in Communities."
The space started as a corner of the library, with poster sessions and student artwork. But when COVID-19 hit, Embree and Gilman began to reevaluate their approach to sustainability work, applied for ALA Resilient Communities and Carnegie-Whitney grants, and reached out to potential partners. The duo used funding to create an Equitable Sustainability Literacy Guide and outfit a larger space in BUL's science library with bulletin boards, a bookshelf of curated sustainability titles, citizen science kits, and—its most popular offering—a seed library.
Technology trends and challenges
The Top Technology Trends panel, a longstanding feature of Annual, explored the theme of "Silver Linings." Discussion quickly turned to the controversy of hoopla, an ebook subscription service that recently came under fire for hosting content that advances white supremacy, COVID- 19 misinformation, and conversion therapy.
"At a recent meeting in Massachusetts, they relied on the Library Bill of Rights" to justify providing access to these materials, observed Callan Bignoli, director of Olin College Library in Needham, Massachusetts. But that approach contradicts the collection development policies and diversity statements of most libraries, reducing the agency that libraries have in collection development, the panelists noted. "That cannot stand," Bignoli said. "We can't give away one of our most [important] community functions to any vendor."
Veronda Pitchford—assistant director of Califa, a nonprofit library consortium that represents more than 200 libraries in California—cited a recent feature from Pinterest allowing the searching of images by hair texture as an example of improved technology inclusiveness. More important than any individual feature, however, is the notion of inclusive coding, she said. "Co-creation is important to me—moving from designing for to designing with." The distinction allows users to shape the products they use by identifying the features they need, she said.
Additional silver linings identified by the panel included how telemedicine can be accessible to many public libraries that have a space that can be adapted to a telehealth kiosk, and the moral entrepreneurship movement in technology (bit.ly/AL-MoralEntrepreneurship).
During the session "Artificial Intelligence (AI) in Libraries: From Training to Innovation," Clara M. Chu, director of the Mortenson Center for International Library Programs at University of Illinois Urbana-Champaign, talked about how AI is a part of everyday life, yet libraries have been slow to adopt it.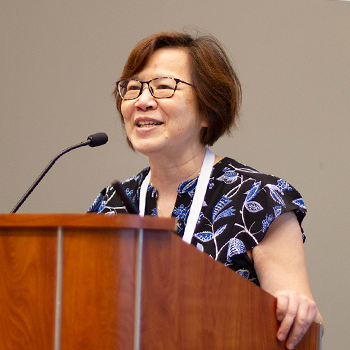 Chu, joined by Soo Young Rieh, professor and associate dean for education at University of Texas at Austin, and other collaborators developed a one-week professional development workshop designed to bring library workers up to speed on AI through collaborative learning and a clear-eyed look at the technology's shortcomings.
Building and funding a library
At "Everybody Wants a New Library: Planning, Funding, and Constructing Inspiring Spaces," panelists discussed the challenges—particularly with funding—related to building new libraries.
Holly Ritchie, director of Manassas Park (Va.) City Library, said the bulk of funding for a new building scheduled to open in August came from the municipal budget, which required public hearings and opportunities for feedback from city residents. "These are a perfect opportunity for your supporters to show their support," she said.
Presenters shared tips that made their libraries' funding campaigns easier at "Transformational Capital Campaigns: Maverick Approaches That Lead to Organization-Changing Projects." For instance, to overcome the awkwardness of asking for money, Amanda McKay, director of Effingham (Ill.) Public Library, started with the easiest possible visit—to a former library board president. "I knew she would say yes if I could just get the words out," she recalled. "It was an awkward conversation that she was incredibly gracious to listen to me stammer through." McKay eventually managed to ask for $100,000 to be a lead donor for the campaign, and the former president immediately said yes. "It was hard not to back-pedal," McKay said. "You have to just say the words and stop talking and let them answer."
During "Ethnographic Design: Creating Culturally Centered Library Spaces," architect Joe Huberty of Engberg Anderson Architects and David Vinjamuri, adjunct associate professor of marketing at New York University, discussed how they apply ethnographic design in new libraries and remodeling projects to avoid building a "cookie-cutter library" that doesn't ultimately resonate with the community.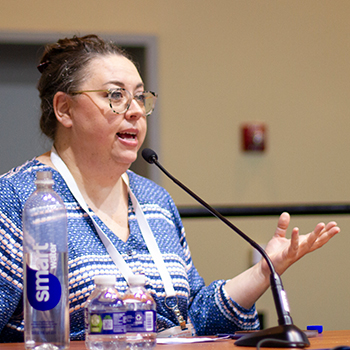 Tracking how spaces within the library are being used can help illuminate ways to engage the community and reveal unmet needs. Julie Retherford, director of Chetco Community Public Library (CCPL) in Brookings, Oregon, shared an example from her library's recent renovation, noting that the library had a teen area—marked by a neon sign that said TEENS—but it was underused. Teens did not feel especially welcome in the library because most of the space was focused on serving older adults and people with children, she said. And because teens are at school most of the day, the space had to be flexible enough to meet the needs of other users, like freelancers and people who work remotely. To resolve the situation, CCPL converted it to a more open space and added study areas.
"Are people doing what we think they're doing [in our spaces]?" Vinjamuri asked attendees. "If the library's not accomplishing your strategic objectives it's because your space is not telling people to do those things."
Source of Article