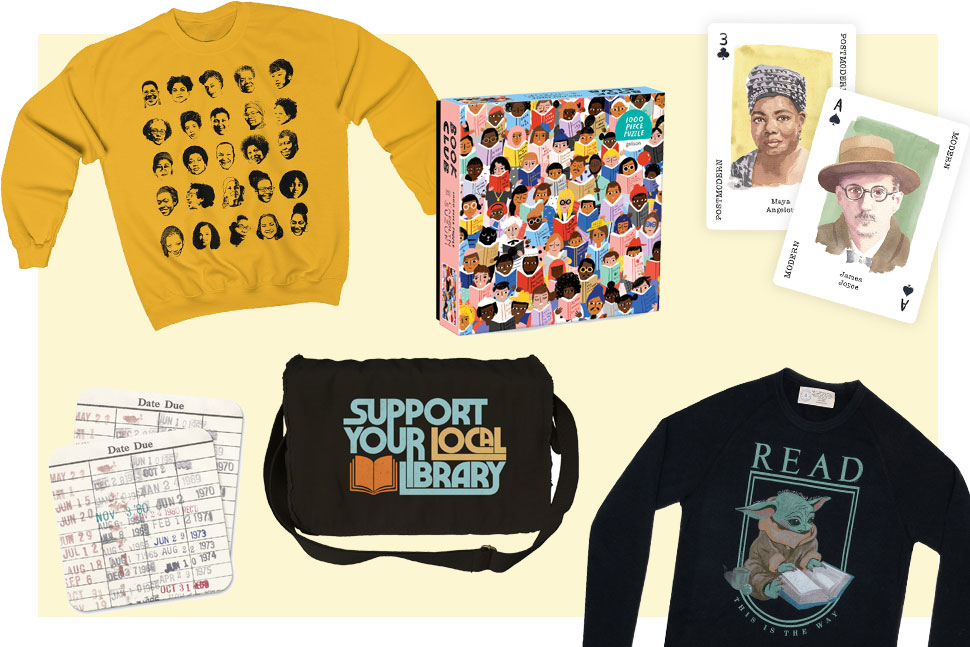 As a second pandemic holiday season rolls in, even the cheeriest folks are fraying a little around the edges. This year, give them effortless presents that will make their lives gentler, simpler, and sweeter. And since you could probably also use a little break, we've done most of the work for you by rounding up a collection of bookish gifts that, despite inflation, are still easy on the wallet (everything is under $50) and suitable for just about everyone on your list (including you).
Gifts under $10
James Baldwin bookmark ($3.99)
Save your place and make your mark with this handmade paper bookmark from KLigg Co. The two-by-six-inch design is crafted from 16-point paper and features Baldwin's quote, "Not everything that is faced can be changed, but nothing can be changed until it is faced."
---
Still Trying to Recover sticker ($4)
If good books leave you spinning, let the world know with this three-by-three-inch vinyl sticker from The Seasonal Pages. This sticker resists rain, wind, sunlight, snow, and humidity, so put it anywhere—laptops, bikes, dashboards—you need a little lift.
---

Book cookie cutter ($5 and up)
Start your own sweet imprint with this book-shaped cookie cutter from Sweet Prints, Inc. Available in six sizes from two to six inches tall, and in either standard or dishwasher-safe plastic, the cutters measure half an inch deep on the edge and slightly shallower inside to leave a clear impression.
---
Bookshelf Reading Tracker print ($7)
With this hand-painted monthly reading tracker, you can record every book you read for the year and make beautiful art out of your bibliophilia. Hang it on your wall or add it to your Bullet Journal. The signed five-by-eight-inch print by British Book Art features fillable spines printed on cream paper.
---
Gifts $10–$15
Genius Writers playing cards ($10.99)
Bring your favorite writers to game night with this deck of 54 Genius Writers playing cards, illustrated by contemporary watercolor artist Marcel George. The deck includes modern, midcentury, postmodern, and contemporary fiction writers such as Angelou, Atwood, Hemingway, Joyce, and others.
---
Library Card coasters ($12.99)
Drinks don't belong on books, they belong on coasters such as these Vintage Library Due Date Card coasters from Joyful Moose. The 3.5-inch square laminated hardboard coasters are full color and handmade.
---
A Library of Misremembered Books ($12.95)
Books we can't forget with titles we can't remember. That's the premise of artist Marina Luz's delightful 96-page hardcover (Chronicle, October), which is full of paintings based on the descriptions of dozens of imaginary tomes, such as "Stories to Worry Children" and "Popular Girls Who Shoplift."
---
Wise Librarian unisex scent ($14)
This all-natural gender-neutral fragrance is made by The Little Book Eater for people who are drawn to books, patience, and wisdom. The perfume oil in this 0.33-oz. glass roller bottle smells like freshly brewed coffee, sweet milk, and toasty, dry amber.
---
It's the Books for Me mask ($14.99)
As long as everyone's still masking, you might as well make it fun. This nonmedical-grade mask by Blk & Bkish comes in seven colors, has a polyester exterior and cotton lining, and features a playful take on the TikTok trend in which people refer to a standout feature of something or someone they know.
---
Gifts $16–$30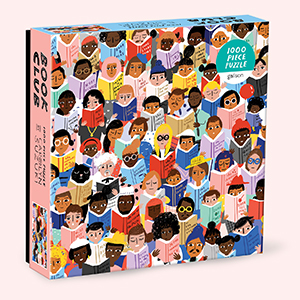 Book Club puzzle ($17)
Lazy afternoons and long winter weekends were made for putting puzzles together. This book-themed 20-by-27-inch puzzle, illustrated by Carolyn Suzuki, features 1,000 colorful pieces on cardstock and fanciful titles such as Olive or Twist, The Great Catsby, and Doctor Chicago.
---
Uncommon Quotes for Library Lovers ($19.99)
This new ALA Editions collection includes 100 insightful, thought-provoking, and uplifting aphorisms about books, the joy of reading, intellectual freedom, and librarianship. You'll find quotes from authors such as Celeste Ng, Suheir Hammad, and Ta-Nehisi Coates; entertainers like Ziggy Marley and Stephen Colbert; and leaders such as Malala Yousafzai—all highlighting the impact of libraries and librarians.
---
Poe tea gift set ($20)
Take your favorite loose tea with you from room to room, and from home to work, with this charming two-piece Edgar Allen Poe–themed set from Me and Annabel Lee. It comes with a 1.4-inch-diameter stainless steel mesh tea infuser featuring a cabochon charm and a 35-mL raven-embellished glass vial with cork top, suitable for filling with your own loose tea leaves.
---
Reading journal ($25)
This thoughtful journal by Kunitsa Co. is a way to chronicle your year in books. It has room to write 52 book reviews, plus fillable lists for books to read, books you lent out and borrowed, and a daily reading tracker. The 8.5-by-6-inch clothbound book is designed to lie flat and features two ribbons for place holding.
---
Louisa May Alcott candle ($26)
Add a little light to dark evenings with this sweetly scented Louisa May Alcott candle from the Paddywax Library Collection. The 6.5-ounce, 3.5-inch-high soy candle burns 40 hours with a light floral fragrance starring top notes of cyclamen, cherry blossom, and orange flower.
---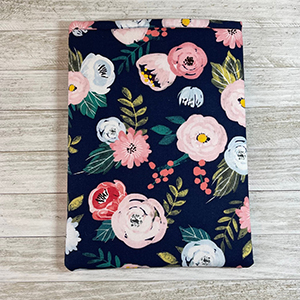 Floral book sleeve ($28)
Protect your favorite volumes from getting scratched by everything else in your bag with a book sleeve that's miles beyond the paper covers you had as a kid. This handmade 8.5-by-11-inch cotton fabric sleeve by Dreaming of Celie features a thick stabilizer to help keep its shape, and it's sized to fit most hardcovers.
---
Gifts $31–$50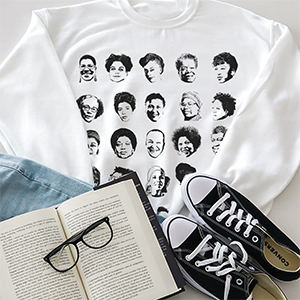 Black Women Writers sweatshirt ($39)
Show some love and respect for Black women writers with this adult unisex sweatshirt by The Trini Gee. The half-cotton, half-polyester top is available in eight colors and five sizes and features the faces of 25 Black women who have inspired, challenged, and delighted readers, including Roxane Gay, Zora Neale Hurston, and Toni Morrison.
---
Bookbinding kit ($45)
Take a break from reading books to make one. This DIY kit from Clever Hands comes complete with all the tools and supplies plus instructions for making one four-by-six-inch, 140-page hardcover. Select from 12 different endpaper designs and nine cover options.
---
Grogu READ sweatshirt ($45)
The Mandalorian's breakout character knows: This is the way. Inspired by ALA Graphics' vintage READ posters, this unisex sweatshirt from Out of Print comes in six sizes in a soft, distressed poly/cotton blend.
---
Support Libraries messenger bag ($48)
Carry your stuff and show your library love with this 1970s-inspired, distressed cotton canvas messenger bag by Boredwalk. The bag measures 16 inches wide, 11.5 inches tall, and 4.75 inches deep. It features an adjustable shoulder strap, exterior and interior zippered pockets, and side pockets with magnetic snaps.
---
The Book Lover Gift Set (medium, $48)
Can't decide what to get them? Buy a little bit of everything with the Book Lover Gift Set from Fly Paper Products. The medium box (shown) features a pencil set, soy candle, notebook, wooden bookmark, and a vinyl sticker.
Source of Article