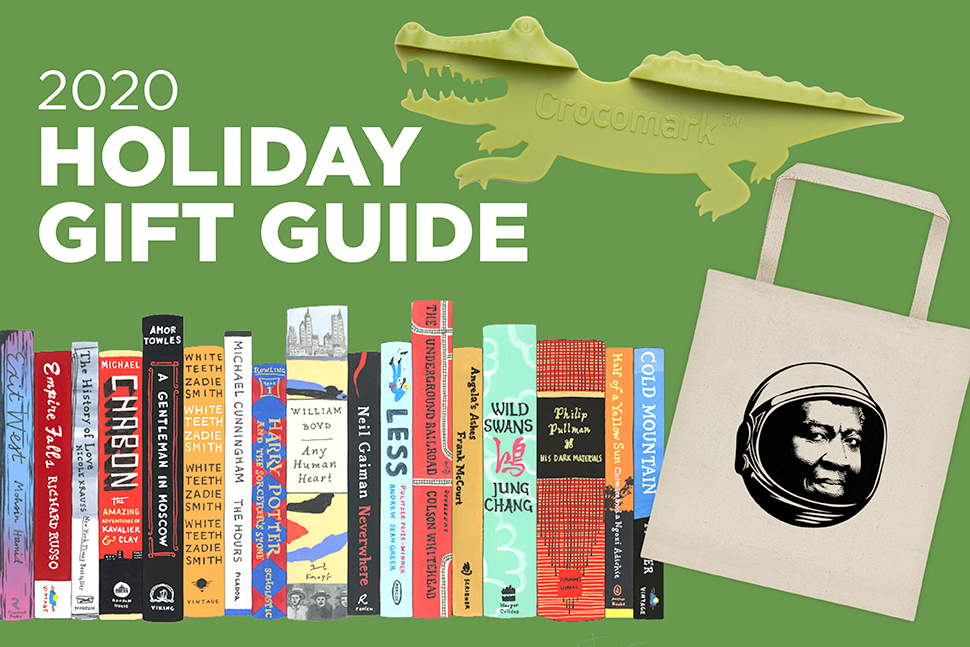 Gift-giving in 2020 should be all about whimsy, relaxation, and most important—comfort. And while your favorite librarians and book lovers probably don't need more reading material, you can indulge them with thoughtful presents that help them enjoy the books they have. On our list, everything is priced under $50, from cozy clothes and decadent treats to design-forward décor and offbeat surprises. You could also consider getting a little something for yourself. After this year, we've all earned it.
Gifts under $10
Checking You Out Card ($5.50)
This letterpress-printed card from Power and Light Press presents the perfect opportunity to tell someone special how you feel. The 3.5-by-5-inch library card comes in a compostable manila-colored sleeve and a pool-blue envelope.
---
Librarians Saving Your Ass Since 300 B.C.E. Patch ($6)
This kick-ass patch, designed by a librarian is just the thing for a backpack or jacket. A portion of proceeds benefit the American Civil Liberties Union, Lambda Legal, Native American Rights Fund, National Resources Defense Council, and Planned Parenthood. The design is also available as a sticker for $4 or a set of both for $9.
---

Crocomark Bookmark ($9)
Protect your pages and keep your place with this whimsical crocodile bookmark. Created by Peleg Design studio, this green plastic pal is approximately 5 inches long.
---
Well Said: The Library Lovers Coloring Book of Quotes ($9.99)
Grab your crayons and unwind with this collection of inspiring quotes about literature, libraries, and library workers from ALA Editions. Share your finished pages online with the hashtag #ColorMeALA. Also available in a five-pack bundle for $39.99.
---
Gifts $10–$25
19 Crimes Wine ($10.99)
In 18th-century Britain, the punishment for 19 particular crimes wasn't prison but deportation to Australia. Each bottle of 19 Crimes commemorates this quirk of history via a clever (and free) augmented reality app. For example, the full, fruity 2018 red blend, which is hitting its peak drinkability now, features John Boyle O'Reilly, an Irishman convicted of treason. Use the app to hear about the poetry he wrote during his journey—and his eventual escape to America.
---
Miniature Chocolate Books ($13.50)
For anyone sweet on reading, this set of eight mini chocolate books from England is sure to delight. The tiny, edible treasures are made of white and milk Belgian chocolate.
---

Litographs Science Fiction Face Mask ($14.99)
Show your style while staying safe. This 8-by-5-inch face mask features an inner cotton layer, plus a polyester outer layer printed with classic and contemporary science-fiction titles.
---
Library Card Pillow Decorations ($15)
These library cards made from vintage fabric are just the thing to dangle from your tree or your rearview mirror, or even to use as a bookmark. Choose from a long list of titles, and add a custom date for $2 extra. Limited-edition Christmas-book versions are also available for $20 each.
---
Binge Reading T-Shirt ($19.99)
Proclaim your love for going on book benders with this T-shirt from Svaha. The 100% cotton unisex tee, available in sizes S–3XL, is screenprinted with a design that looks remarkably like that of another popular purveyor of bingeable content, Netflix.
---
STET! Card Game ($19.99)
This card game for people who love writing is based on the wildly popular, wickedly funny grammar guide by Random House's copy chief Benjamin Dreyer. Each box features 100 entertaining sentences for players to either copyedit or stet (editing lingo for "let it stand").
---
Octavia E. Butler Tote Bag ($20)
Tote legendary sci-fi author Octavia E. Butler everywhere with this 15-by-19.5-inch 100% cotton canvas bag, which features 22-inch handles and a reinforced bottom. The illustration by designer Nick James is hand-printed in Philadelphia, and every purchase supports community partners.
---
Gifts $25–$35
R.E.M. READ Poster Puzzle ($30)
Thirty years ago, the American Library Association (ALA) commissioned a promotional poster from legendary indie-rock band R.E.M. in hopes of getting more music lovers into books. That collectible poster has now been reissued as a 1,000-piece puzzle, and all proceeds go to ALA and the children's literacy nonprofit Books for Keeps. The 19.25-by-26.5-inch puzzle is made in the US with recycled cardboard and printed with soy-based inks.
---
Ideal Bookshelf Prints (from $34)
Visualize your dream collection with an "ideal bookshelf" print from artist Jane Mount. Pick your favorite books from a list of available titles (or pay more for custom volumes), and Mount will depict them all cozied up together.
---
Box Stitch Reading Socks ($34.50)
Keep toes cozy with these unisex grey knit reading socks. The 15-inch-tall acrylic, nylon, and alpaca knit socks, which feature a fuzzy plush lining, can be worn slouchy or pulled up.
---
Harlem Renaissance Candle ($35)
Celebrate Harlem Renaissance librarian Regina Anderson Andrews and other leading lights of early-20th-century Black culture with this limited-edition Harlem Renaissance Candle. The floral, spicy scent burns for 70–80 hours, and the matte black container features the work of artist Infamous JeanClaude.
Source of Article